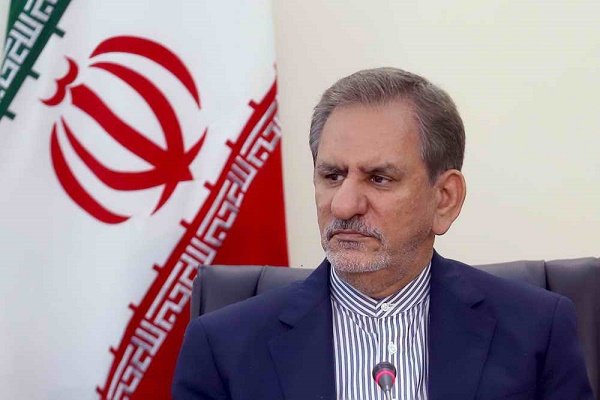 Iran's Vice President Es'hagh Jahangiri, who left the southern city of Abadan to Najaf on Wednesday morning, was warmly welcomed by a number of Iranian and Iraqi officials in Imam Ali (AS) airport upon arrival in the holy city of Najaf.
Jahangiri had visited Shalamcheh border on Tuesday to attend the Arbaeen Committee session and stressed the need to facilitate the return of Iranian pilgrims from Iraq.
Each year, pilgrims, mainly from Iraq and Iran, travel long routes on foot to Karbala, where the holy shrine of Imam Hossein (AS) is located and Jahangiri will accompany pilgrims for a part the route.
He is also scheduled to visit the development plan of Imam Ali's shrine in his short trip to Najaf.
The official is accompnaied by Commander of Iran's Law Enforcement Police Brigadier General Hossein Ashtari, Interior Minister Rahmani Fazli as well as Head of Iran's Hajj and Pilgrimage Organization Saeed Ohadi.
The Arbaeen mourning ceremony is one of the largest religious gatherings in the world.
It marks the 40th day after the martyrdom anniversary of the grandson of Prophet Mohammad (PBUH), Imam Hossein (AS), the third Imam of Shia Muslims.
Over two million Iranian pilgrims have travelled to Iraq for Arbaeen Day through three border points including Mehran, Shalamcheh and Chazzabeh in southwestern Iran.