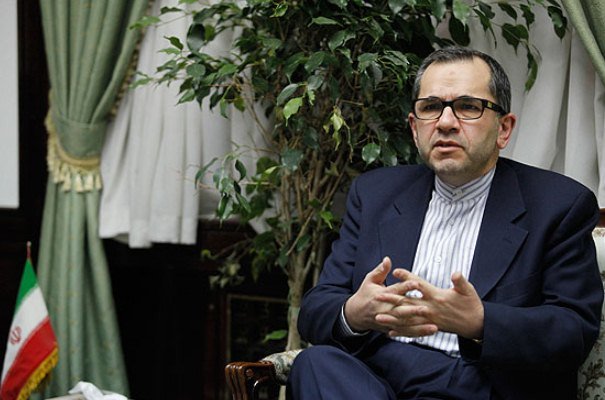 Following his trip to Mexico, Deputy Foreign Minister for American and European Affairs Majid Takht-Ravanchi met with the Mexican Undersecretary for Foreign Trade in the ministry of Economy Francisco de Rosenzweig discussing venues for reinvigorating economic relations between the two countries.
Francisco de Rosenzweig expressed Mexico's willingness to develop economic and trade relations with Iran; "we seek to finalize the legal framework for the development of relations and we look forward to the approval of documents during experts' negotiations," he added.
Takht-Ravanchi, for his part, said Iran and Mexico enjoy important positions in their geographical area being able to work together and complement each other.
He stressed that the trade turnover between the two countries is not commensurate with their capabilities and economic potentials and welcomed bolstering of bilateral ties.
"To this end, first we need to gain a better understanding of the two sides' capabilities which requires continuing exchange of expertise delegations as well as direct contact between Iranian and Mexican companies," underlined the Iranian official.
Takht-Ravanchi further met and talked with Mexico's Secretary Of Energy Pedro Joaquin Coldwell as part of his trip to the Central American country.
Iran's deputy foreign minister said the energy sector can mark one of the areas of cooperation between the two countries enumerating various venues of collaboration including oil and gas exploration and production as well as projects for upgrading refineries and technical services.
He further announced Iran's eagerness to cooperate with Mexico in the field of petrochemical industry.
Mexico's Secretary Of Energy Pedro Joaquin Coldwell said at the meeting that allows investment and presence of private sector in the field of energy in line with its energy system reform.
"A new situation has emerged in Iran after the nuclear deal providing the ground for cooperation between Iran and Mexico," Coldwell concluded.